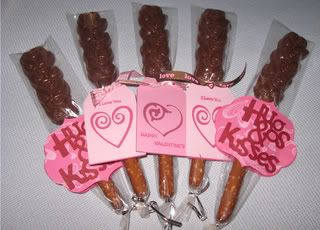 This project fits the criteria for two challenges this week. Over at
Paper Playtime
#35 challenge was anything party related. At
Scrappy Moms Stamps
, Terrific Tuesday the challenge was to use the "Sweethearts" cartridge.
I am so excited!!! A client of my husband gave us hockey tickets to see the Vancouver Canucks play the Calgary Flames on Feb. 12th. This will give us a chance to visit my three nephews and their families. So a party needs favours and chocolate is always a hit.
The mold used to make the pretzel stick topper is by Wilton. I bought everything, including the pretzels, at my local Michael's. I used Light Cocoa candy melts.
The tags were cut using the TAG "feature key" and two hearts shapes (pg 34,35). Both cut at 3". The tag "foundation key" (pg 79) was also cut at 3".
The Hugs & Kisses tag was made using the "cartoche" on page 74. To manipulate the image I used my Gypsy and changed the size of both the width & height to 3.45w by 2.94h. To do that the width and height have to be unlocked by clicking on the chain image. This allows the proportions to be altered. The words Hugs & Kisses on page 36 were cut at 2 1/4". The pink paper on the cartoche was stamped with white Colorbox pigment ink.
The best part about making these was the taste test. Someone had to eat the broken pretzels and leftover chocolate! YUMMY.
Please leave a comment telling me which tag you like best.
Happy Cricut Crafting
Colleen