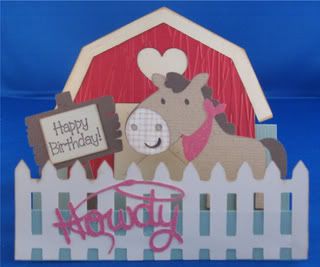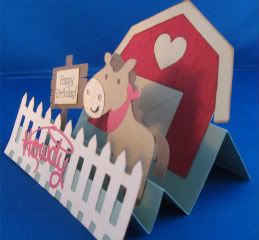 With all the snow that is falling outside it was nice to have challenges to work on. After going to church I didn't want to go out again until the roads are cleared.
This card was too much fun to make. The Create a Critter cart is fast becoming one of my favourites. Today I cut out a dozen horses, dogs and cows to have fun with.
Over at More that Favors the challenge this week is a Farm Theme. So I started thinking about how I could display my farm yard. I haven't made a stair step card without a side before but the barn needed more room. I scored the paper at 1", 2", 2", 4 1/4 & 6 1/4". The red part of the barn is embossed and all the pieces are inked on the edges. All the brown papers are so old I don't know the manufacturer. I have been really making a dent in my stash lately which is a very good thing.
Details:
Carts - Create a Critter, Camp Out, My World
Card size - 5 1/2" x 5"
Stamp - Happy Birthday by My Sentiments Exactly
Create a Critter - horse @ 3", Howdy @ 1 1/2", barn @ 4"
Camp Out - sign @ 3"
My World - fence @ 2"
Challenges:
More than Favors
- #27 Farm Theme. Paula and her DT run two challenges so check them out.
Scrappy Moms
- use Create a Critter. Make sure to check out the stamps she sells. They go great with lots of the cartridges.
Fanatabulous Cricut
- Emboss It. There is a post everyday to this blog that you should check out.
Check out all the entries into the challenges and you will find some amazingly talented people with great blogs.
My next challenge entry is going to be Spring themed but it is going to take a lot of imagination to forget all this snow. My husband is in bed with a sore back and I am wondering if we will get out to work tomorrow.
Happy Cricut Crafting
Colleen