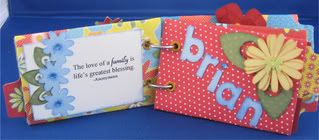 I am teaching a beginners Cricut class and this is the project this week. These are really fun to create and make great gifts. The flowers, borders and leaves are all from Walk in My Garden. The lettering is Mickey Font. The tab on the inserts is a SU punch.
To squash the TP rolls easily, run them through the Cuttlebug. Cover each roll with a 4" x 6" piece of pattern paper. Using a Cropidile punch two holes close to one edge.Make a cardboard template so each page is the same. Set eyelets and put on binder rings. A Bind it All could also be used with a large O wire.
Select any four flowers and make between 1 1/2" to 2" tall. Numerous layers are required for some of the flowers. Cut a piece of cereal box or chipboard for the back of the flower used for the front cover. This makes it more durable. Ink edges, add gems, buttons and brads. The one inch border flowers and leaves are made by using the Border Feature key.
The verses were printed from the computer and the edges inked. Stamps could also be used. Journaling stamps with handwritten info could also be used. Hope you will give these a try.
Happy Cricut Crafting
Colleen