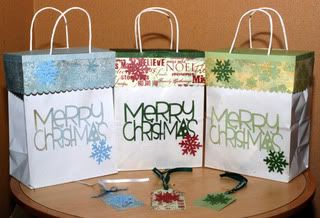 I was very excited today to see I had my 100th visitor. I would greatly appreciate comments and followers.
Here are my three completed bags. I am very pleased with the outcome. The previous picture did not include the three snowflakes. I cut them from Bazzill Bling and put two on the bag and one on the tag.
I was glad to get the contents for my bags finished and delivered. I made Soup in a Jar, greeting cards and a scallop album.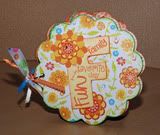 The scallop album was a M's chipboard album. A very smart person, not me, made a cut.file for it so that made covering the chipboard easy. The large "F" was cut with Mickey Font and the words are stamped on. I distressed all the edges with ink.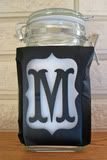 I etched the gal's initials on the jars using vinyl. I managed to use the outline repeatedly and just changed the initials. I put a paper cut of the initial inside the jar to use for alignment. The frame and initials are from Storybook.
The greeting cards are packaged in an acrylic box and tied with sheer ribbon. There are six cards in the box.