After a long absence I am returning with full enthusiasm and creativity. I hope you and your families enjoyed the Christmas season as much as ours did. My daughter was on my case about my blog and selling my stuff so that is what prompted me to return.
I don't usually make resolutions but this year I did.
1. Make my blog a priority and post regularly
2. Make a project from each of my 73 cartridges
3. Better organize my craft space
4. Enter one challenge a month and post my entry (scary)
5. Get birthday cards to family & friends on time
6. Sell some of my projects
This is a big list of "to do's" but I am going to give it my best shot.
This first project was made for my husband for Christmas. I took an online course through
My Creative Classroom
to learn more about my
Bind it All Machine
. I highly recommend this course.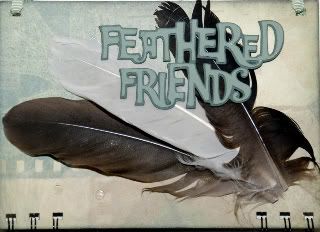 By binding only four rings on each edge makes the project both lighter and uses up leftover pieces from other projects. My husband is an awesome photographer and I wanted to make a frame we could hang in our motor home. If this falls off the wall it won't break!
I used six 5 x 7 chipboard pieces and covered them with paper. Bind only on the edges. I choose to cut two of the pictures down to let the pattern paper show and have a space for the two Cricut cuts from Give a Hoot. The backs were inked.(No birds were hurt in the making of this frame.) I have a large collection of feathers. I will be making more of these in different themes, look for further postings.
My next blog will be about things I have done to organize my Bind it All, embossing folders and Cricut books & overlays.
Happy Crafting,
Colleen