I made a dozen of these fun cards. I had friends over for a Christmas lunch last Wednesday and made these cards for them. They were very impressed. I made a cut file for this just to save time with the cutting. It can be cut by hand just as easy. I just don't like to do all the measuring on each card.
Cut double sided cardstock 8" x 12" and cut out rectangle by Cricut or by hand.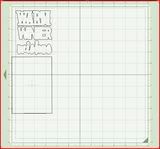 Turn over the 3 1/2" x 12" left over piece to other side and cut out 3 1/2" shadow of Warm Winter Wishes and mat for the verse. Mat is 3 1/2" x 5". Cut 3 1/2" Warm Winter Wishes (not shadow) out of glitter paper. If you don't have WW cart, use any 3 different fonts and cut matching shadows. Adhere words to shadows.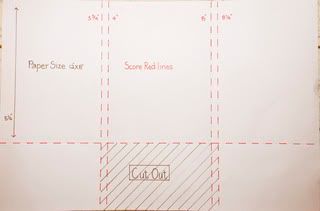 Score along the 12" edge at 3 3/4, 4, 8 & 8 1/4. Turn paper and score at 5 1/2". If cutting by hand, cut out the area between the 3 3/4 & 8 1/4 & 5 1/2 score lines. See picture. Crease all folds and create flaps of the pocket.Cut 2 - 2" bookplates, Shift, shadow #14 using Fabulous Finds. Use a size and shape to fit your stamps. Stamp bookplates and adhere to flaps with brads. Adhere thin tape to the 4 outside edges of the flaps.

Cut 18" of ribbon. Cut slits from 2 1/4" to 2 1/2" on the 3 3/4" & 8 1/4" score lines. Thread ribbon through slits so that the ribbon shows on the inside covering the middle panel. Adhere mat in the middle panel over the ribbon.Tie the ribbon in a bow on the front of the card. Adhere Warm above the ribbon and Winter & Wishes below. Cut out image for the inside right flap - something that matches the paper. Fill the pockets with goodies. A mini glue dot will hold the candy cane in place. Maybe add a Scratch 'n Win ticket!
***Leave a comment and I will email the cut file and pdf file of the verse.
MERRY CHRISTMAS